Pierre Loti with Samuel Viaud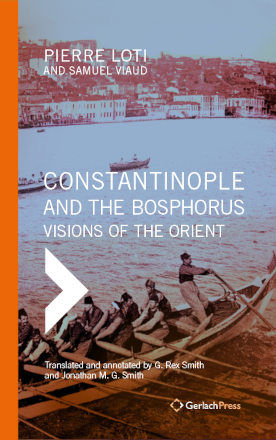 Constantinople and the Bosphorus
Translated from the French and annotated by G. Rex Smith and Jonathan M. G. Smith
Pierre Loti with Samuel Viaud
Edited by: G. Rex Smith, Jonathan M. G. Smith
Gerlach Press
Language: English
1. Edition (2023-11)
Hardcover, 160 pages
HC ISBN 9783959941686
Availability: not yet published
75.00 € (excl. VAT)
First English translations of Pierre Loti's 'Suprêmes Visions d'Orient' and 'Constantinople. Fin de siecle'.

Pierre Loti (1850-1923) was born Louis-Marie-Julien Viaud into a Protestant family in Rochefort in Saintonge, South-West France (now Charente Maritime). He was an officer of the French Navy and a prolific author of considerable note in 19th-/early-20th-century France, publishing many novels and numerous accounts of his travels around the world. He was a member of the French Academy.

Apart from his literary talents, Loti was a pioneer photographer and this translation is greatly enhanced by the reproduction of some of the photographs he took at the time.

Volume includes a number historic photos taken by Pierre Loti and 2 maps.