Why Publish with Gerlach Press?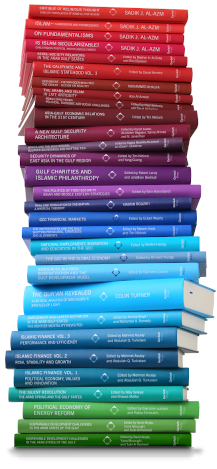 Gerlach Press was founded in 2010 as a new, but at the same time classic academic publishing house with intensive personal support for authors and manuscripts, specialized in one subject only, a "Cutting Edge Publishing Programme in Middle East and Islamic Studies" with a special emphasis on:
- Research beyond conventional narratives
- Fundamentally new questions in research
- History and decolonization of the subject
- Enlightenment and emancipatory approaches
IMPORTANT NAMES & PROMISING SCHOLARS
Gerlach Press publishes some of the most important names in the field of Middle East and Islamic Studies:
- Sadik J. Al-Azm (Damascus, Syria), the vigorous Arab enlightener
- Dale F. Eickelman (Dartmouth College, USA), the much-read anthropologist
- Muhammad Shahrour (Damascus, Syria), the groundbreaking Quran interpreter
- Tim Niblock (Exeter, UK), the doyen of Gulf Studies
- Frauke Heard-Bey (National Archives, Abu Dhabi, UAE), the top expert for the Gulf region
- Aziz Al-Azmeh (Central European University), the well-known historian
- Colin Turner (Durham, UK), the outstanding Quranic studies scholar
- Carool Kersten (King's College London, UK), leading scholar on Modern Islamic Thought
Gerlach Press also offers promising younger scholars the opportunity to become internationally known in an unbureaucratic, cost-free, and above all fast way. Prerequisites are high quality academic content and good English. Recent examples are Degang Sun (Shanghai), Seyfeddin Kara (Durham), Yesenn El-Radhi (Frankfurt), Annika Kropf (Erlangen), Asma Hilali (Lille), Imène Ajala (Dubai), Nasrin Rouzati (New York), and Nikolay Kozhanov (St. Petersburg).
CUTTING EDGE PROGRAMME
- Islamic Studies
- Quranic Studies
- Early Islam
- Critical Thinking
- Islam & International Relations
- Islamic Law
- Current Middle Eastern Affairs
- Gulf Studies
- History of the Middle East
- Middle East Politics & Current Affairs
- Strategic Studies
- Islamic Law & Finance
- Environment
- Arabic Literature & Poetry
- Primary Sources
SERIES & COOPERATIONS
Gerlach Press cooperates with Exeter University. 🔗 Its series Exeter Critical Gulf Studies is published with us. The renowned series Studies in Late Antiquity and Early Islam is supervised by experts in Goettingen and New York. A multinational team publishes the series Islam and International Relations, and a new series Shanghai Middle East Studies is being developed in cooperation with Fudan University, Shanghai. 🔗
WHY PUBLISH WITH US?
- Bureaucracy-free and personal service
- Rapid decisions
- Fast and efficient production (average 4-5 months from final copy)
- Copy editing by native speakers
- Very high production standards from German printers
- Print and digital formats (JSTOR, Ebsco, Proquest) from day one
- Simultaneous European and North American publication
- Worldwide marketing to our own specialist database of 9,000 buyers (scholars and libraries)
- Attendance at key international conferences (MESA, BRISMES, BRAIS, JAMES, DAVO)
- Booths at key book fairs (Frankfurt, London, Cairo, Abu Dhabi, Muscat)
- Stockholding in all key markets (US, UK, Germany, Middle East, East and Southeast Asia)
- Worldwide sales: North America 40%, Europe 30%, Middle East & Asia 30%
Please contact the publisher Kai H. Gerlach directly at: khg@gerlach-press.de